Old Meets New: Downtown Hot Springs' Historic Sights
A rich history and modern luxuries beckon visitors to the heart of Hot Springs
Experience the opulence of an era when bathhouses were the playgrounds for the rich and famous in downtown Hot Springs. Many of the buildings downtown were constructed during a time when Hot Springs rivaled Las Vegas and Atlantic City as a gambling mecca in the South. Now the buildings house shops, art galleries, restaurants, music venues, theaters and museums.
Study the history of Bathhouse Row and the city's thermal springs at the Hot Springs National Park Visitors Center, housed in the historic Fordyce Bathhouse, or experience it for yourself at Quapaw Baths & Spa and Buckstaff Bathhouse — the only still-operational bathhouses within the park. Many downtown hotels also offer soothing baths and massages.
Wander behind the bathhouses and you will discover the springs themselves, still bubbling to the surface as they have for thousands of years. Stroll the half-mile brick path for a spectacular view of downtown as well as a quiet escape into nature. Several mountain trails begin along the wide Grand Promenade.
You can ride (or hike) to the top of Hot Springs Mountain, where Hot Springs Mountain Tower stands above the National Park and offers a 140-mile view in all directions on a clear day.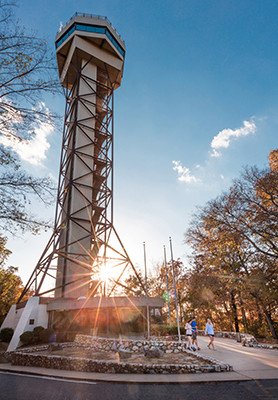 Hot Springs Mountain Tower sits 1,256 feet above sea level and overlooks 140 miles of the Ouachita Mountains and downtown Hot Springs.
Want a closer look at the National Park? Several more hiking trails await you on West Mountain. You can also drive to the top to catch more magnificent views of downtown.
Downtown is home to some of Hot Springs' most beloved eateries. Fuel up for the day at The Pancake Shop, a popular spot that tends to have long lines on the weekends (but those flapjacks are worth it).
DeLuca's Pizzeria is a must. The restaurant makes its pizza dough fresh, by hand, every single day in limited quantities, but folks can call ahead and reserve their dough.
Another Hot Springs mainstay is Rolando's Nuevo Latino Restaurante & Speakeasy, known for its unique dishes and the gorgeous back patio nestled against Hot Springs' West Mountain.
Downtown's nightlife scene is popular among tourists and locals alike. Superior Bathhouse Brewery is the first brewery located inside a national park and the world's first to use thermal spring water as its main ingredient. Or head to Bourbon Bar at 501 Prime to choose a nightcap from the bar's extensive bourbon offerings.
If you want a more comprehensive tour of the area, Anita Lynn Historic Tours are just the ticket. Anita's tours have been a staple in Hot Springs tourism for more than 30 years. Tourgoers will experience Bathhouse Row, drive through the historic business district, see President Clinton's former home, hear about famous and notorious visitors, touch and taste Hot Springs' thermal water and much more.
(See Take a Drive Down Hot Springs' Central Avenue.)
---
WE RECOMMEND
PLACES TO EAT
501 Prime
The Bourbon Bar at 501 Prime
Cafe 1217
Copper Penny Pub
Core Public House
DeLuca's Pizzeria
The Pancake Shop
Rolando's Nuevo Latino Restaurante & Speakeasy
Superior Bathhouse Brewery
Taco Mama
Taco Mama-Sidetown
Vault
Will's Cinnamon Shop
---
PLACES TO PLAY
Anita Lynn Historic Tours
Big Axe Battleground
Core Public House
Dryden Art Pottery Gallery/Studio
Fox Pass Pottery
Hot Springs Trolley
Riley Art Glass Studio
Superior Bathhouse Brewery
---
PLACES TO SHOP
Bathhouse Soapery
Culinary District
Dryden Art Pottery Gallery/Studio
Evilo Oils & Vinegars
Fox Pass Pottery
Hot Springs Hat Company
Riley Art Glass Studio
The Savory Pantry
Will's Cinnamon Shop
---
PLACES TO RELAX
Buckstaff Bathhouse
Quapaw Baths & Spa
---
PLACES FOR NIGHTLIFE
The Bourbon Bar at 501 Prime
Copper Penny Pub
Core Public House
Rolando's Speakeasy
Superior Bathhouse Brewery
Permalink