Hot Springs: Destination I Do
When it comes to planning a wedding in Arkansas, Hot Springs is an ideal destination. Lush gardens, sparkling lakes and scenic mountains, plus its central location and proximity to Interstate 30, make it an easy choice for Arkansas brides and many from out of state.
The Spa City is home to every type of service you need to plan a dream wedding — from bridal boutiques, caterers and florists to rentals, photographers and jewelers. The abundance of accessible vendors means Hot Springs is a one-stop shop for stress-free planning.
Regardless of the wedding style or theme, Hot Springs has options to fit every taste and budget. It's no wonder TheWeddingReport.com reports more than 1,600 couples chose to get hitched in the Spa City each year.
Other perks? It's notoriously affordable; brides find wedding planning stress relief at many spas; and out-of-town guests have endless options for lodging, sightseeing and fun.
PREFERRED VENDORS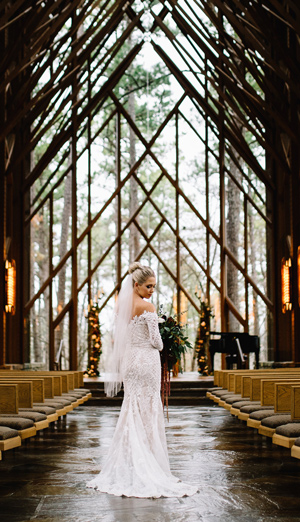 Bride Cynthia Durham chose the famous Anthony Chapel, with floor-to-ceiling windows, for her ceremony at Garvan Woodland Gardens.
(Justin Palmer Weddings)
For more information, pick up
a copy of Arkansas Bride magazine
to find a special
Hot Springs Wedding Planner
insert, or visit
ArkansasBride.com
.
Bridal Beauty: Hair, Makeup & Spa
---
Cakes & Desserts
---
Calligraphy & Handwriting
---
Catering
---
Florists
---
Music
---
Photography
---
Rentals
---
Wedding & Event Planning
---
Wedding & Reception Venues
---
Videography
Permalink