Discover 7 of Hot Springs' Must-Ride Cycling Trails
While the Spa City is known for its relaxation and rejuvenation offerings, it's also a hotspot for avid cyclists from around the country.
Hot Springs boasts more than seven mountain biking and road cycling trails that will challenge even the most seasoned riders. Three trails that wind their way into Hot Springs bear the IMBA Epic distinction awarded to the most challenging mountain biking trails in the country. But there are plenty of beginner trails, too. The trails will take riders on a unique tour of the Spa City with stunning views — all while fitting in a great workout.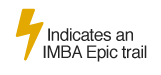 What are IMBA Epic Trails?
This coveted distinction is awarded by the International Mountain Biking Associate to "true back country riding" trails. Trails that are IMBA Epics must be 80 percent singletrack in a natural setting, must be technically and physically challenging, and must be at least 20 miles in length. Arkansas has five IMBA Epic trails including The Womble, the Upper Buffalo, Syllamo Trails, Lake Ouachita Vista Trail (LOViT) and the Ouachita National Recreation Trail. For more info on Epic trails, head to IMBA.com.
MOUNTAIN BIKING

Ouachita National Recreation Trail
108 MILES | INTERMEDIATE TO ADVANCED
The Ouachita National Recreation Trail is the longest hiking trail in Arkansas, and a 108-mile stretch of it is open to mountain bikers, making it the longest mountain biking trail in the state. But riders beware, the trail is known for being the most rugged and remote track in the state. Even advanced riders need to hike-a-bike up the steep Ouachita hills. Riders will want to bring a GPS, map, cell phone and plenty of food and water for this impressive trail.
Best areas to ride: Big Brushy, Blowout Mountain, Irons Fork and Foran Gap
---

Womble Trail
33 MILES | INTERMEDIATE
The Womble is considered the jewel of the Ouachita Mountains and is one of the most popular trails in the state. Made up of loose rock with occasional areas of hard-packed dirt, the Womble Trail features a rolling terrain ranging between 1,000-1,600 feet in elevation. The trail features quite a bit of ridge riding and some areas with steep drop-offs that will require special focus and care. The Womble is used as part of the course for the Ouachita Challenge, a mountain bike race held in April.
---

Lake Ouachita Vista Trail (LOViT)
45 MILES | INTERMEDIATE
The Lake Ouachita Vista Trail (LOViT) sprawls for nearly 45 miles along the southern shore of Lake Ouachita. The trail features multiple drop-in spots with 13 trail heads and more than 17 miles of climbing. Riders also have the option of stopping overnight at one of nine campgrounds and six lakeside resorts, then continuing their ride in the morning. The first 10 miles are rolling and moderately challenging with nice views of the lake, but the final 35 miles are a steep uphill climb. Once riders reach the top of Hickory Nut Mountain, they're afforded beautiful views of the lake below.
---
Iron Mountain Trail
21.5 MILES | BEGINNER TO INTERMEDIATE
This trail system is made up of five loops with switchbacks and a few rock gardens. Overall, the Iron Mountain Trail is a mild ride offering beautiful views of DeGray Lake. The yellow loop is known as "the roller coaster" and begins right off of Channel Road. It includes a few steep but short climbs with fun downhills where riders can really fly. This trail is used for several races and rides including XTERRA events. Camping and cabins are available nearby, as well as lodging and dining at DeGray Lake Resort State Park.
---
Cedar Glades Trail
10 MILES | BEGINNER TO INTERMEDIATE
Cedar Glades Trail is a must for avid bikers of all skill levels. The trail features flat track and three climbs that will get riders' hearts pumping. The first climb is mild and occurs in the first mile. The second major climb occurs around mile four. It's a pretty consistent climb with lots of switchbacks. The descent is loose with rocks and extremely fast. The third major climb occurs around mile eight. This last, major climb is short but can be climbed very fast. This final section is smooth with lots of flow and wide turns to carry the momentum through.
ROAD CYCLING
Hot Springs Loop
51 MILES | INTERMEDIATE
This loop cuts through historic Hot Springs National Park and travels through the scenic Ouachita Mountains. The trail starts at the intersection of Grand Avenue and Central Avenue and travels north on Central Avenue (Scenic Hwy. 7) to Hwy. 5. Return back by riding west on the shoulder of Hwy. 70, then turn right on Hwy. 128, and after about five miles, turn left onto scenic Mill Creek Road. After a long day of cycling, riders will end up at Bathhouse Row, where they can rest their legs and enjoy a massage.
---
Four-Lake Loop
212 MILES | BEGINNER TO INTERMEDIATE
This trail is perfect for those looking for an easy ride. This moderate ride allows you to stop and camp at four great Arkansas State Parks, and takes you past some of the area's top attractions such as Crater of Diamonds State Park and Oaklawn Racing & Gaming. At its max, the loop is more than 200 miles and takes you by Lake Ouachita, Lake Greeson, DeGray Lake and Lake Hamilton, but riders can make their loop as short or as long as they want.
Bike Rentals in Spa City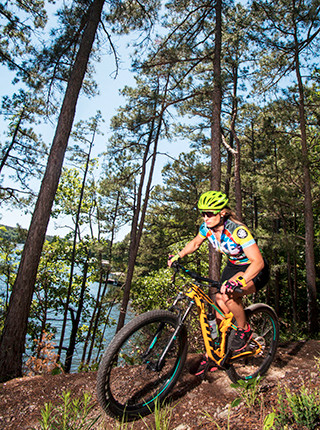 If you left your bike at home, don't worry. Hot Springs has you covered with multiple bike rental options.

Ouachita Kayak Tours
(501) 725-2925
Don't let the name deceive you. Ouachita Kayak Tours offers mountain bike tours given by outdoor expert Lisa Logan, who is working with Spa City Cycling to offer bike rentals in Montgomery County.
Ouachita Rides & Guides
(501) 617-2150
Owners Jake Meredith & Caleb High offer shuttle service and guided tours of the Ouachita trails in Hot Springs.
Parkside Cycling
(501) 623-6188
This bike shop in Hot Springs provides rentals with a 24-hour notice and a valid driver's license.
Spa City Cycling
(501) 463-9364
If your bike needs a tune-up or you're in the market for a new bike, Spa City Cycling is your go-to shop for all things cycling.
Info from Arkansas Parks & Tourism website.
Permalink