Hot Springs' Other Famous Water: The Tri-Lakes
Thermal springs aren't the only popular water this resort town. The city is also regarded as a recreational hot spot thanks to three lakes on Hot Springs' southern and western edges.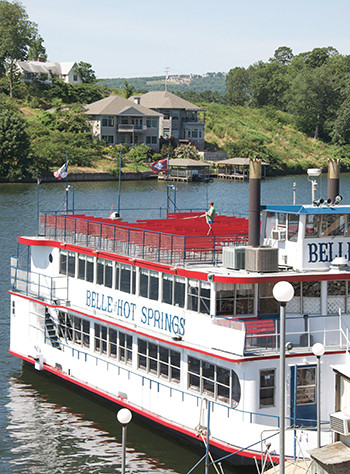 The Belle of Hot Springs is a 225-passenger riverboat offering sightseeing tours of Lake Hamilton, as well as dinner and dance cruises. Pro tip: The rolls are amazing.
Lake Ouachita, Lake Hamilton and Lake Catherine were created by dams on the Ouachita River primarily for hydroelectric purposes. Today, the lakes attract thousands of visitors each year for boating, fishing, camping, hiking and nature watching.
Lake Hamilton is the busiest of the three, with shores that are dotted with lake homes, lodging rentals, marinas and restaurants.
One of the most popular features is the Belle of Hot Springs Riverboat, which offers dining, sightseeing and dinner-dance cruises.
Lake Catherine includes Lake Catherine State Park, which features boat rentals, boat tours, guided horseback trail rides and guided hikes, as well as a pavilion, camping area and visitor center.
Completed in the 1950s, Lake Ouachita is the newest lake, and at 40,000 acres, it's also the largest man-made lake in Arkansas. Known for its clarity, Lake Ouachita is a great spot for scuba diving. Divers can explore water that now covers valleys and ridges of the Ouachita Mountains. Fishing enthusiasts are fond of Lake Ouachita too; its waters are filled with largemouth, smallmouth and striped bass, among others.
The lake is connected to Lake Ouachita State Park, which offers camping, cabin and boat rentals, and wilderness trails. Several privately owned resorts dot the shoreline, including a visitor favorite, Mountain Harbor Resort & Spa.
---
PUBLIC BOAT RAMPS
Great water doesn't end with Bathhouse Row. Here's a selection of free boat ramps for spending the day on one of Spa City's three beautiful lakes.
Lake Catherine
Ramp accessible off Arkansas Highway 171 on the lake's north side near the marina
Lake Hamilton
Sunnybrook Landing, 560 Lakepark Dr.
Hulsey Fish Hatchery Ramp, 350 Fish Hatchery Road
Hill Wheatley Park, 688 Majestic Lodge Road
Lake Ouachita
Two boat ramps accessible via Lake Ouachita State Park on Arkansas Highway 227
---
WE RECOMMEND
PLACES TO EAT
Beano's Pizza
Glenwood Country Club
Hawg's Pizza Pub & Bar-B-Que
JavaPrimo Coffee House, Cafe & More
Jenn's Specialty Foods at Mountain Harbor Resort & Spa
The Lodge Restaurant at Mountain Harbor Resort & Spa
Scoops Homemade Ice Cream
Ward's Crawfish Hole
Wingstop
PLACES TO STAY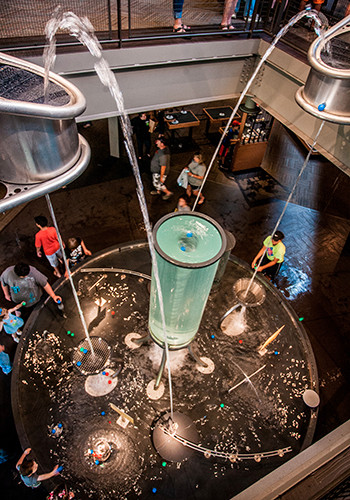 The Mid-America Science Museum houses hands-on exhibits and hosts events like Tinkerfest to engage visitors year-round.
Brady Mountain Resort & Marina
Catherine's Landing
Glenwood Country Club
Iron Mountain Lodge & Marina
Lookout Point Lakeside Inn
Mountain Harbor Resort & Spa
Red Oak Ridge
PLACES TO PLAY
Adventureworks
Brady Mountain Resort & Marina
Forest Path Gallery
Garvan Woodland Gardens
Glenwood Country Club
Hot Springs Marina
Iron Mountain Fishing Guide John Duncan
Iron Mountain Lodge & Marina
Mid-America Science Museum
Mountain Harbor Premier Lake Ouachita Fishing Guides
Mountain Harbor Resort & Spa
Mountain Harbor Riding Stable
Pirate's Cove Adventure Golf
PLACES TO SHOP
Catherine's Landing
Forest Path Gallery
Garvan Woodland Gardens
Glenwood Country Club
Hot Springs Mall
JavaPrimo Coffee House, Cafe & More
Lookout Point Lakeside Inn
Mid-America Science Museum Store
Munro Footwear Outlet Store
PLACES TO RELAX
PLACES FOR NIGHTLIFE
Hawg's Pizza Pub & Bar-B-Que
Permalink