The Life of a Jockey at Oaklawn Park
Alex Birzer has been jockeying for 25 years, 18 of which he's spent at Oaklawn. The Council Grove, Kansas native has horseracing in his blood — he followed his father's footsteps and became a jockey along with his brother. "I always wanted to ride," he says.
Birzer gives a nod to his agent for his 3,000+ career victories. "I have a lot of faith in him," Birzer says. "I just show up and ride."
Though the jockeys aren't allowed to place bets, Birzer says he's not much of a gambler anyway. His advice for racing newcomers looking to place a smart bet is to go with the trainers and jockeys whose horses always make it to the top three to four spots.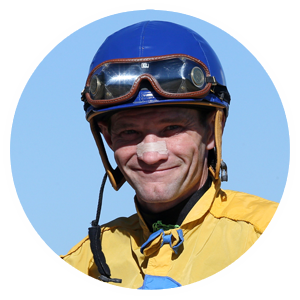 Jockey Alex Birzer reached his 3,000th-win milestone Feb. 26, 2017, at Oaklawn aboard Numancia
Birzer says in all of his years as a jockey, nothing quite compares to the atmosphere at Oaklawn on race day. "Especially here at Oaklawn, my favorite thing is getting to the top of the lane and hearing the crowd roar," he says. "When there's 25,000 people screaming and hollering, it's a great feeling. We joke that on Saturdays, the sun is always shining at Oaklawn," says Birzer.
Typically Birzer rides in about 1,000 races per year—a typical work day could include six to nine races, depending on the track. At Oaklawn, his day starts before the racetrack even opens, checking in with various people. Then he'll work with horses he's scheduled to ride that week, the next week or even a month out. He has a break after morning workouts, so he heads to the jock's room to get ready for the day's races.
One thing Birzer wants people to know is that being a jockey is not a hobby; it's year-round. Birzer works at Oaklawn until late April, and takes a two week break before heading off for stints at tracks in Iowa and Oklahoma.
HEROIC HORSES
Many great horses have raced throughout Oaklawn's 113 years, but the three most recognizable are 2004 Arkansas Derby winner Smarty Jones, who went on to win the Kentucky Derby and Preakness Stakes; two-time Apple Blossom winner and 2010 Horse of the Year Zenyatta and 2015 Arkansas Derby winner American Pharoah, who became the first horse in 37 years to sweep the Triple Crown, meaning he won the Kentucky Derby, Preakness Stakes and Belmont Stakes.
Read more: A Full House of Excitement at at Oaklawn Racing & Gaming
Permalink